Madison Jay Releases Talking To 'Em Music Video
Fresh off the release of his brand new July 2023 album "These Carolina Nights"Madison Jay drops off the fan favorite "Talking To 'Em" music video!
In yet another crisp visual directed by frequent video collaborator 40/50 Vision (Josh Hamilton, Check Out The Spice, Wanna Be Down, and more) Madison takes it to nighttime Downtown Raleigh to show off his witty wordplay. The track itself is produced by bi-coastal legend Jamal Nueve with one of the slickest 80's horror flick 'Maniac Cop' samples ever! We get more displays of the NC artist's diverse fashion choices as he lays swings thru bars in fresh Diadoras, all red robe, and retro yellow shorts.
After watching the video you can hear the song for yourself on the new album "These Carolina Nights" available on streaming services now.
Follow Madison Jay @themadisonjay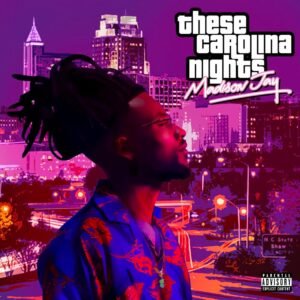 Madison Jay is a Featured Artist on Carolina's Finest and has been featured on multiple mixtapes! Learn more about the artist Madison Jay in our interview: Madison Jay: Carolina's Finest EP.2